ARCHLine.XP 2020 je napredan 3D CAD/BIM program za projektiranje u arhitekturi i dizajn interijera.
ARCHLine.XP 2020 Professional
Novi ARCHLine.XP 2020 ima čišći, snažniji dizajn, nudi izradu dokumentacije i vizualizacije od početka do kraja, uključujući čvršću integraciju s ARCHLine.XP LIVE, te novim i obnovljenim naredbama za veću produktivnost vođeni prijedlozima korisnika.
The ARCHLine.XP MEP tools make it easy for engineers to model and visualize mechanical, electrical and plumbing systems in 3D, along with the architectural model.
Import your MEP parts, fixtures and fittings in IFC format, connect your elements using ducts, pipes, etc.
Have full control over when and how to represent your MEP elements in order to have clean and professional layouts.
Feature available in ARCHLine.XP Professional only
AUTO-ROUTING
What's better than having the ability to build MEP systems? When you do not have to do it by hand.
Meet "Auto Routing": ARCHLine.XP connects up your MEP parts to each other by itself, so that you don't have to worry about collision or missing connections.
Feature available in ARCHLine.XP Professional only
Create lighting plans by organizing and ordering your switches and lamps together.
With the schematic representation of your electrical items, a unified 2D appearance is made possible.
The method is as follows:
Define the type of your lamps: ceiling, wall, desk, pendant, spot, etc.
The lamps are "turned" into a symbolic 2D representation
The switches and lamps are linked up together
The connection between the items is checked: are there any non-connected elements? Are there any switches that have ways that are not yet taken?
Eventually, we yield necessary data, such as the needed wattage of a room.
Feature available in ARCHLine.XP Professional only.
Turn your imported textures into seamless ones. A seamless pattern means that its vertical and horizontal repetition is without breaks, therefore resulting in a natural and realistic outcome.
No need for an external image manipulation software to achieve this result – you can do this in ARCHLine.XP directly. Process your textures, define their boundaries manually, and use them as seamless patterns.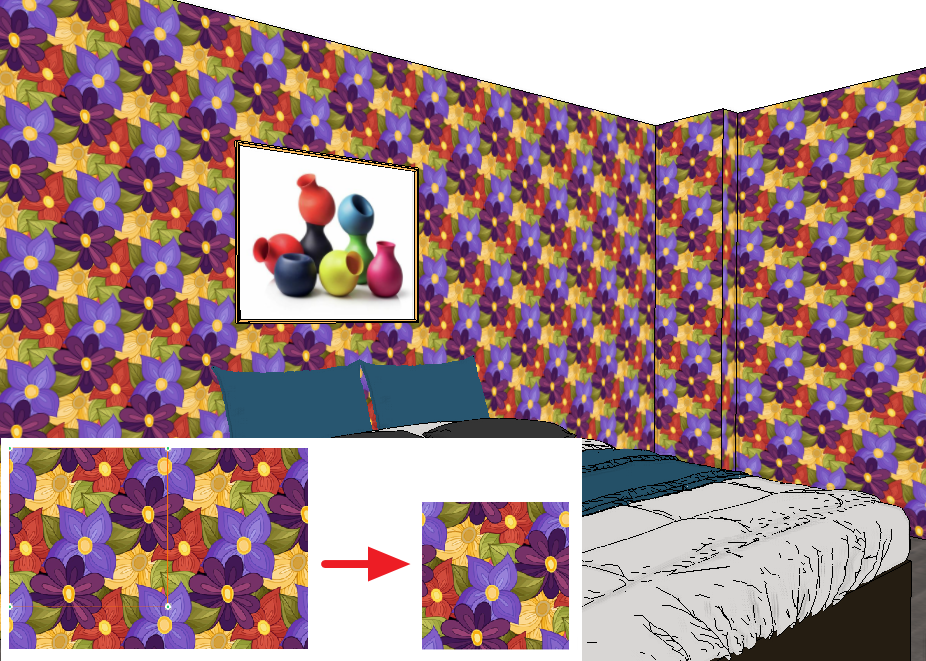 It happens frequently that we need to edit the models we have downloaded into ARCHLine.XP. In Sketch Mode, we can tell the program to only store the selected items of a model. Once those items are saved, you can keep on selecting further items of the model, and save them in batches, or one by one.
As we work, we can delete, move or even rotate the elements we are working with.
A tag is a label, which helps you to identify certain elements on your drawing, by showing data, which has been assigned to that item.
You can create and place tags at any stage of your work – place them onto your floor plan, or save them into Excel tables.
Tags can be customized, meaning that the values ordered to the item can be re-organized, and changed anytime.
What's more, the tags will always refresh, and follow the changes on your project.
This tool links up a selected element with a single- or multi row text with a pointer line.
If the text is moved, the line will follow it.
You can add arrowheads to either end of the lines, and you can modify the linetype, too.
Create material consignations and take-offs, using your own custom templates you have created in Microsoft Word.
It works as follows: ARCHLine.XP adds its XML export data into an RTF template. Such templates are created when a MergeField code is ordered to an RTF document.
As a result, you can fully customize how your exported documents will look like.
By rotating your drawing, you can align the main walls of your building with the horizontal and vertical axes. This results in easier design, where you can snap to orthogonal directions.
The drawing can be set back to its original orientation anytime, and you can toggle between the True North and Project North.
Switching between these modes will not affect the 3D model or the print layouts.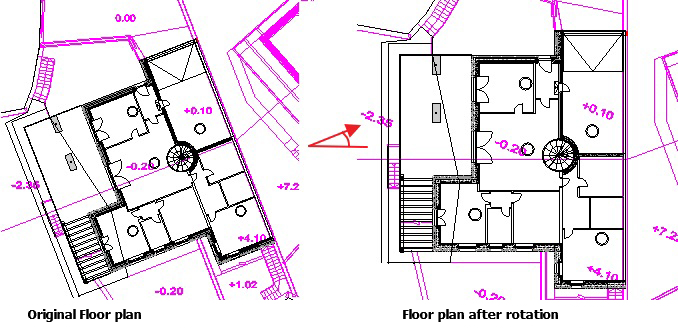 1. DXF export for CNC machines
The panels making up your cabinet can be saved one by one into DXF files. These files then can be easily passed onto CNC machines.
2. CSV export for panel cutting optimization software
The CSV file will carry the dimensions, amount, material information of your cabinet panels – based on this data, the relevant software products can easily calculate the optimal cuts, minimizing loss and redundancy.
Features available in ARCHLine.XP Professional only.
With our revamped rendering engine, you can create high-resolution photorealistic images in shorter time.
Meet Depth of Field, an effect, borrowed from professional photography, enhancing and highlighting the main focus of your images. You can define where the photo should be the sharpest, while blurring out items located in the foreground or background.
Feature available in ARCHLine.XP Professional only.
Coloring materials
As an additional material property, we have introduced Adding color. This can be switched on/off at will, and it will only affect the appearance of the material, while leaving the original texture intact.
As a result, you can try several color schemes of the same material, with the result instantly showing.
Coloring textures: adding color correction
The image patterns you import into your projects can be re-colored, and saved as an additional material. Contrary to the "coloring materials" feature, here you'll end up with textures, which are re-colored.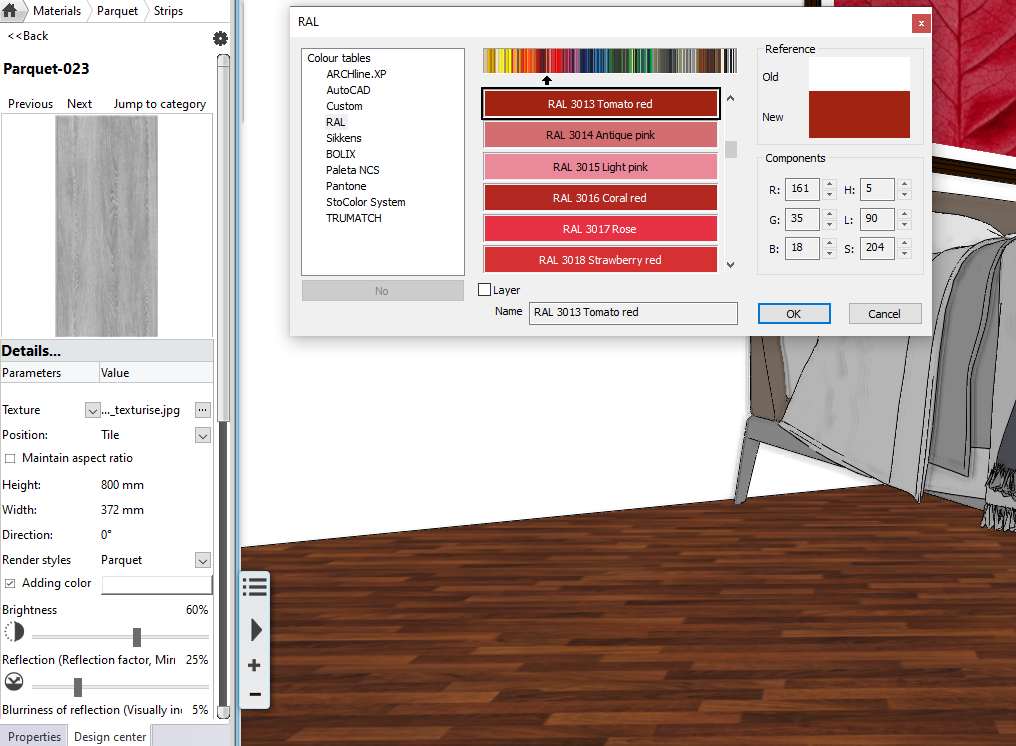 You can easily migrate your license between computers. You can deactivate the program on your old workstation, and activate it on a new one with a few clicks.
There are three ways to activate/deactivate your license:
With internet connection between your computer and the Cadline servers: simply deactivate the program on your old workstation, and activate it on the new one.

If there is internet connection, but the computer is unable to connect to the Cadline servers: this might be caused by firewall settings, admin settings, etc. If this happens, you can log into your ARCHLine.XP account on our website, where you can deactivate your license online.

Offline license migration: if there is no Internet connection, your license data has to be sent to us, along with a request for license migration.
Please note:
Once your license has been migrated to another computer, you will no longer be able to use the program on your original workstation.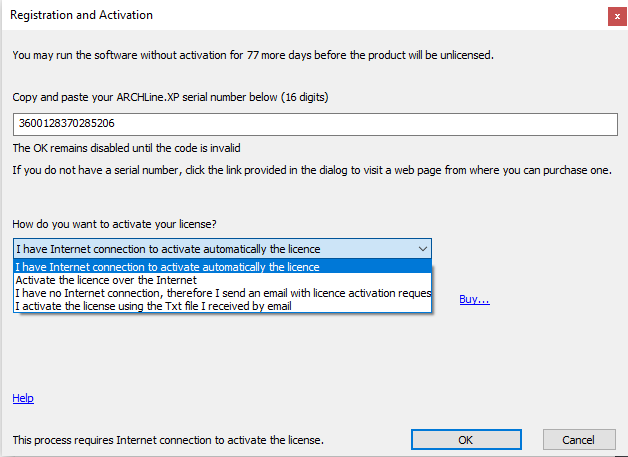 ARCHLine.XP LT je 3D CAD/BIM program sa osnovnim funkcijama  programa ARCHLine.XP Professional. Idealan BIM softver za one koji počinju učiti BIM i već imaju neke znanja u 2D softverima. ARCHLine.XP LT pomaže u izradi visokokvalitetnog 3D arhitektonskog dizajna i dokumentacije. Dajte bolje rezultate za manje vremena.
Kompatibilnost: Dijelite projekte slobodno s ostalim CAD i BIM korisnicima softvera koristeći IFC ili DWG ™, DXF i RVT ™ formate.
ARCHline. XP LIVE omogućuje vizualizaciju ARCHLine.XP Professional i ARCHLine.XP LT projekata arhitekture i dizajna interijera u stvarnom vremenu, simulirajući biljke na vjetru, zavijanje vode i druge značajke okoliša poput oblačnog neba, zalaska sunca, ljudi, vozila itd.
Pošto se radi o RealTime renderu, što znači da nema vremena renderiranja, možete reagirati na zahtjeve svog klijenta odmah i odražavati promjene u nekoliko minuta, bez obzira na veličinu i složenost vašeg projekta.
Više informacija o novostima u verziji ARCHLine.XP Professional 2020 možete pročitati u PDF-u. Općenite informacije o ARCHLine.XP programima možete pročitajte ovdje.